A-Frames – We create custom A-Frame Signs out of our Santa Rosa location. A-Frames are great promotional signs. They can be placed nearly anywhere and set up or taken down in seconds. A-Frames are usually used to promote events and specials but it's not uncommon to see A-Frames placed permanently outside of businesses to encourage people passing by to stop at their business. We are heavily experienced in A-Frame construction. If you are looking for A-Frames, you have come to the right place.
What Are A-Frames?
A-Frames are special types of signs that are designed to be easily transportable, lightweight, and efficient. The most common form of an A-Frame is one that has two similarly sized beams that are attached at the top and is typically arranged in a 45 degree angle. More complex A-Frames will have a cross bar connecting and stabilizing the two beams creating the appearance of the letter A from which the name A-Frames is derived. A-Frame beams are typically made out of wood or steel beams. The top of A-Frames are typically attached by rope, welding, riveting, or gluing.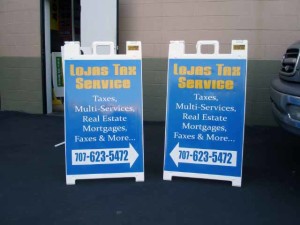 Why A-Frames?
A-Frames are great at marketing. Businesses use them and love them for a variety of reasons. They are durable, lightweight, cost effective, and easily transportable. Think of A-Frames as a transportable marketing service. Whether you move locations, have a booth at an event, or just want a sign in front of your business that sticks out, an A-Frame sign will always be there to work some marketing magic for you.
Get Your Very Own A-Frame
Are you ready to get a hold of your very own A-Frame Sign? Maybe you just have questions about then? In either case, you should contact Applied Signs of Santa Rosa. You can either contact us by visiting our contact page, calling us at 707-202-4569, or by visiting us in person at our shop (address below). We look forward to hearing from you.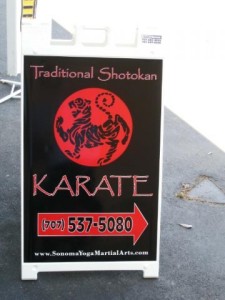 Please view our photo gallery to see some examples of our A-Frames. Contact us at:
Applied Signs
2921 Santa Rosa Avenue, Santa Rosa, CA 95407
707-202-4569
info@appliedsigns.net
 Testimonial
Excellent work, ethics and super professional results. Gary is all about Quality, Professional, Rock-solid Quality. I have been fortunate to be his friend and client for several years now, and he is a trust-worthy, reliable and talented
Sign maker. I have no hesitation recommending him both As a friend and as a Business Professional, he is an outstanding person and business Owner, Artist and Friend!

Robert R. from Elverta, CA
REQUEST A FREE QUOTE