Banners – We create custom banners at our Santa Rosa location. Whether you need a banner for your business, trade show, political campaign, kids soccer team, or anything else, you have came to the right place. No matter the size, material, or design, we will take your vision and make it a reality. The artists at Applied Signs are the best in the North Bay and when you go with us, you can rest assured that your banner needs are in the right hands.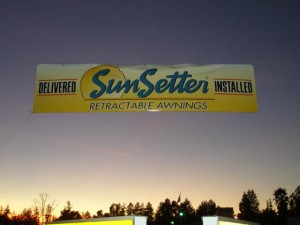 Why Banners Are Important
Banners for businesses are an easy way of marketing that can make a tremendous impact. They draw attention to your business, product, event, or organization. Banners get your message across in a big, bold, and easy to understand way. Whether displayed indoor, outdoor, hanging, or in stands, they remain effective. Banners are also extremely easy to transport which acts as a time saver and stress relief for business owners who participate regularly in trade shows and events.
Picking banners that are made of durable, flexible, and portable material is ideal because they will keep working for you over and over again. Vinyl banners are a perfect example of this. Vinyl banners are light and very durable which makes them perfect for frequent transportation. No matter what your banner needs are, Applied Signs will ensure that you end up with the right banner for your individual needs.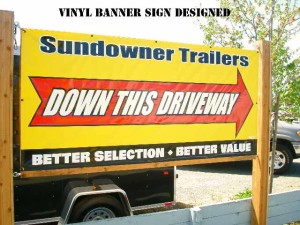 The Type of Banners We Make
Vinyl Banners
Text Only Banners
Two Sided Banners
Fabric Banners
Mesh Banners
Canvas Banners
Banner Stands
And any other type, size, or shape of banner you could possible think of.
Get Your Message Across
Santa Rosa businesses absolutely love banners and signs. If you have any doubt about that, just take a drive down Santa Rosa Avenue. The only way to get through the clutter and ensure that your banner grabs the attention of your target audience is by learning who your target market is and what will draw their attention. Our banner experts at our Santa Rosa location will help you do exactly that. Whether your audience requires a colorful banner, particular graphics, or a certain message, we will help you figure out how your banner should be laid out. If you already know who your target market is and what will draw their attention, that's great! As stated above, we will take your vision and make it into a reality!
Get Your Banner Started
To get your banner started, all you have to do is contact us. You can either contact us by visiting our contact page, calling us at 707-202-4569, or by visiting our shop (details below). We look forward to helping you create the banner you've been looking for.
 Testimonial
I have exchanged  work with Gary at Applied Signs since around 2008 and his work not only covers an endless variety of mediums, but the results are unmatched.  He's the kind of person you can bring an idea to and he'll make it happen.

Scott W. from Cloverdale, CA
You can also view our photo gallery to see more examples of our Banners.
Applied Signs
2921 Santa Rosa Avenue, Santa Rosa, CA 95407
707-202-4569
info@appliedsigns.net
REQUEST A FREE QUOTE