Vehicle Graphics – The vehicle graphics that we offer are not only high quality, but are guaranteed to turn heads at any hour of the day. We measure each vehicle precisely and work tirelessly to ensure a perfect fit and check in with you to make sure that the product we deliver is the one that you want. Whether you have a sports car in need of a makeover or a fleet of cars to advertise your business, we guarantee satisfaction. Our team of experts is dedicated to superior craftsmanship, customer satisfaction, and is second to none. If you are in need of a custom vehicle graphic, look no further.
What are vehicle graphics?
Vehicle Graphics are a new skin for your car, truck, van, trailer, etc. that are a cost effective way to advertise your business, essentially acting as a mobile billboard, raking in customers the day it hits the road. They are not damaging to your vehicle in any way and last about 5 years. In addition to being perfect for business advertisement, they are custom works of art that can range from company logos to high definition photographs.
Why should you get vehicle graphics?
Vehicle Graphics are perfect for businesses, small or large, that need an easy way to advertise over a large area. All you do is bring in a vehicle (or vehicles) in need of a makeover to us, and we transform it into the best marketing tool you will ever have. They work on the road or in the parking lot and make your business visible from miles around. Our designs leave a lasting impression that is sure to have customers flooding in within hours of use. Vehicle graphics are estimated to be seen by between 30,000 and 70,000 people per day (stats from crankycreative.com).  Not only are vehicle graphics the best advertising product you could buy, but they are also a great way to express yourself by customizing a personal vehicle.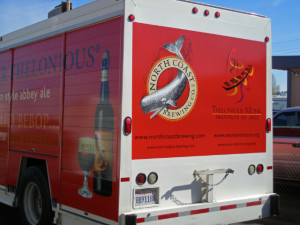 What are you waiting for?
Applied signs has the best artists in the business and guarantees your satisfaction. If you're ready to get your very own vehicle graphic right now, or maybe just have some questions about them, contact Applied Signs in Santa Rosa. You can call us at 707-202-4569 or drop by our shop to meet us in person (address below). We look forward to hearing from you.
 Testimonial
Gary branded our business truck a while ago and the work still looks impeccable. He will discuss various options available with you, he is clear and competitively priced and will work with you to get great results. Before finding him, I called around and was just not getting what I wanted, but when we met him we realized he was the guy to "make it happen", he will never rush you off, he will listen to your ideas and help develope them. Looking for signs that pop, that are competitively priced, try Applied Signs!!

Caroline R. from Rohnert Park, CA
We do vehicle graphics for businesses. Please view our photo gallery to see some examples of our Vehicle Graphics. Contact us for more information at:
Applied Signs
2921 Santa Rosa Avenue, Santa Rosa, CA 95407
707-202-4569
info@appliedsigns.net
REQUEST A FREE QUOTE